Grades
Tungstène pur
(W 99.95%)
Cupro-Tungstène
(WCu)
Tungstène Lanthane
(WLa)
RHENIUM TUNGSTEN
(WRe)
THORIUM TUNGSTEN
(Wth)
Applications
Mining, petroleum, electrical, armament industries...
Our products
- Standard: ronds, tubes, plaques, feuillards, fils

- Customized: blanks, blocks, discs, parts according to plans
> All our products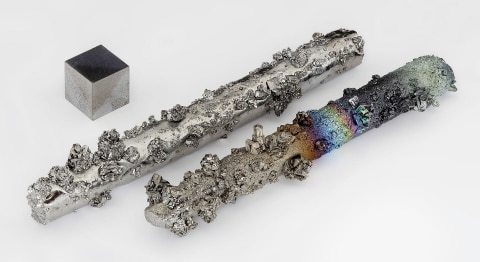 Tungsten and alloys
Pure tungsten is a hard metal with colors ranging from steel gray to pewter white. It can be cut with a hacksaw when it is very pure, but it is brittle and difficult to work with when it is impure, and is normally worked by forging, extrusion, or drawing. This element has the highest melting point (3422°C) of all metals, and the highest tensile strength of all metals at a temperature above 1650°C, its Young's modulus is 406GPa. Due to its very high melting point, tungsten is not melted but sintered. Its resistance to corrosion is excellent and it can only be slightly attacked by mineral acids.

Tungsten has a wide range of uses. The hardness and density of this metal make it ideal for making alloys of metals used in armament, heat sinks, and weights and counterweights.
Since its coefficient of expansion is equivalent to that of borosilicate glass, it is used to make glass-to-metal welds (electrodes, electrical feedthroughs).

Superalloys containing tungsten are used to make turbine blades, steel tools and plating.

It is used as a refractory electrode in TIG welding.
The arc contacts of high-voltage circuit breakers are also partially made of tungsten in order to withstand the high temperature of an electric arc.

Tungsten is used in the mining, petroleum and armaments industries and in the electrical industry in pure or alloyed form.