Grades
T35 - Grade 1
T40 - Grade 2
T50 - Grade 3
T60 - Grade 4
TA6V - Grade 5
Applications
Aeronautical, military, chemical, automotive, medical, optical, aerospace industries, etc.
Our products
- Standard : ronds, méplats, plaques, feuillard

- Sur-Mesure : ébauches, blocs, disques (en qualité forgée), pièces suivant plans


> All our products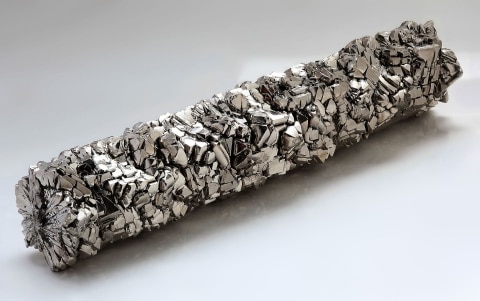 Titanium
Titanium is regarded as a metal with high mechanical strength and good ductility under normal temperature conditions. Its specific strength (tensile strength/density ratio) is, for example, higher than that of aluminum or steel. Its resistance decreases at temperature with a flattening between -25°C and 400°C. Below -50°C, in cryogenic temperature ranges, its strength increases, and its ductility decreases considerably.

Titanium being non-magnetic, it is highly resistant to corrosion and abrasion. Its resistance to fire, especially that of hydrocarbons, is also very good.

It is used for these properties mainly in fields as varied as the aeronautics, military, chemical, automotive, medical, optical and aerospace industries.